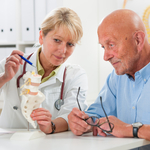 Visiting an Osteopath

At the initial consultation I will take a comprehensive case history from you.
This will include all the details of your presenting complaint and any relevant medical information regarding both your current and past general health.

All aspects of the consultation are strictly confidential in the same way you would expect from your doctor.

You will then have a physical examination and I will use all this information to formulate a diagnosis of your condition and propose a treatment plan.

Visiting an osteopath is very much a partnership between patient and clinician and you will be encouraged to be fully involved throughout the consultation process and subsequent physical examination and treatment.

This ensures that you understand the diagnosis of your condition and are in a position to make informed choices about the treatment offered.

Following treatment I will re-examine you to judge your response and will then be able to advise you as to how many subsequent visits you may require and at what interval.

Most conditions respond well in 2-6 sessions but this will vary from person to person.
Fees

East London Clinic

£55 Adults
£45 Babies/Children
£45 Seniors and Unwaged



Payable by cash or cheque
(Sorry, we are unable to accept card payment)

Recognised by all major health insurers.

Each session lasts 40 minutes for adults and 30 minutes for children but you should allow up to an hour for the first session.